/obligatory Hoshicon post let's goooo
So Hoshicon was this weekend, and I'm currently composing this sentiment before the post-con blues kick in (they're close, I assure you). Not the most organized con I've ever attended, but it was one of the most memorable c: One of the best things about anime cons (or cons of other nature, for that matter) is the atmosphere (is that metaphysics I smell?). Everyone loves to be in a place where they're surrounded by people who share their passion, and the fire they have for it.. so getting away from work/school/reality for a weekend of that is really and truly a wonderful experience. Thank you to everyone I saw at Hoshicon for making it fantastic, and I hope to see you all again sometime quite soon.

Friday was the day we actually attended the most programming, interestingly enough. We went to an Avengers panel (which was really quite funny) and walked way more than we probably should have, dressed as we were. I debuted my Lady Loki costume and somehow, everything managed to stay on for 8+ hours. Wild success, because when it came out of blueprint mode, I wasn't giving the horns more than an hour. *victory dance*
Jasmine (aka wordsandlinebreaks) is amazing, everyone else go home, because without fail, she's the magic behind the photographic documentation of my cosplay endeavors and should be loved on until the end of time.
Aside from the hardcore dudebro creeping that happened out on the streets when we (Jasmine and myself) were trying to do a photoshoot, though, Friday night was a lot of fun. I ran around all afternoon with Jazz, my little sister, Britni, and Snowbell86, and everyone was ridiculously friendly. Oh, and smoothies.
All that tasty, tasty blood.
Saturday started a little later than expected because a certain someone wouldn't get up that morning, but we ran around (minus Rosie, tear) and ended up picking up another Hetalian for our crew, who's an amazing Lithuania and a gorgeous, fantastic, hilarious new friend of mine. (I CAN'T GET OVER YOUR CILLY FEELS EITHER ASDF YOU'RE PERFECT OKAY)
We were also thrilled to run into this Matt, and uh, chaos ensued. At least, for a little while. (I don't know if she has a dA, but if so, thanks for your kind words- you really looked awesome, too

)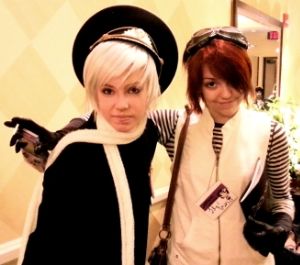 The Ask-A-Nation panel that afternoon/evening was a lot of fun (though it was incredibly warm, and honestly made us contemplate stripping off our costumes on more than one occasion..) and it was awesome to be reunited with xmagicalgirlyx, America (who burned my communist facade with her absurd amounts of freedom, ugh), and Hungary, and to meet the dear Norway who put up with my awkward conversation afterwards as well as Amanda/France (who made a lovely France, seriously, I'm thrilled I got to make your acquaintance, mon petit croissant c:!) too! If you came to our humble little panel, thank you so much for being there and asking us questions. (And for squealing at our impromptu fanservice, hahaha.)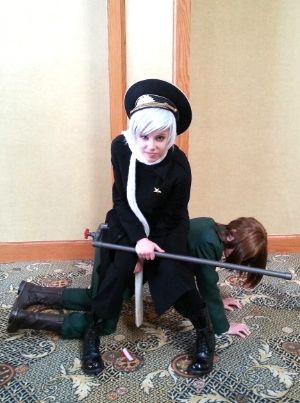 Watch your back, Liet. <3 I might just have to keep catching you offguard.
To the Kurloz cosplayer (I saw you in the Hoshicon tag as LunarInaba, I think) on Saturday night that I ran into in the restroom and talked to briefly (as the a-little-more-cutesy-than-intended Soviet!Russia): You were hands-down the most dedicated cosplayer that I had the pleasure of meeting at Hoshicon, so please don't stop doing what you're doing ;u; I looked up your character when I got home, and I was so so so impressed with you that I wanted to shoot this fount of praise off into cyberspace in hopes that you'll see it. c:
So then Sunday was fairly slow, as to be expected. We went to the improv-improv panel hosted by the Joker's Improviganza duo, and it was hysterical, also as to be expected. More time with my dear Hetalians was spent before the con closed at 4, and the sun promptly came out as soon as it did. Such is life.
To all the congoers this weekend, hopefully we'll meet again soon! But for now, looks like I'll be Minecrafting my sorrows away for a good while, and working on the spark of inspiration that hit me very recently on the same subject..